I was negligent about the Castoffs blog for February and there were so many great projects knitted! Here is a short overview of our meetings during the shortest month of the year.
February 1, 2016
We met at Camas Cottage, which is quickly becoming the place we prefer judging by the number of times we've been there recently. They love having us because someone from our meeting wanders out to the store to buy yarn or accessories nearly every week.
Leslie started the month finishing the Monster Pants she began in January. Inside out, we saw all the yarn-ends from the changes of color on the outside.
Mary found a darling fox scarf pattern to go with Aurora's foxy top she made last year. It's pretty darn cute.
Carol finished some fingerless mittens that had been giving her fits. Yay, Carol!
Marylane re-started her Log Cabin blanket using ONLY the colors she liked. Snip-snip!
Michele is knitting a bottom up sweater vest with the yummiest yarn – soft and feather light. I love this yarn–and pattern.
Linda's scarf is almost finished. She'll just have to join the ends to form a cowl.
February 8, 2016
We met at Leslie's house on a snowy day. We all hoped that this would be some of the last snow we'd see, but it IS only the beginning of February. We'll have to wait and long for spring.
Marylane's Log Cabin blanket is coming along. Doesn't she look happy that it's finally going the way she wants?
Some of us brought yarn from our stashes for a yarn swap, and sent the skeins that weren't chosen with Marylane to a thrift store. My stash is a lot lighter, thank goodness. My mother's cedar chest was bursting at the seams with all the yarn I'd accumulated.
Mary finished the fox scarf for her granddaughter. A fairly quick project. Looks great, Mary.
Michele's vest is growing. I love this pattern and yarn! Oh, did I say that last week? Yep.
The Monster Pants are almost finished! I particularly the pattern for his googly eyes.
Francy is knitting a big boy pullover for her grandson. He'll look adorable in this.
February 15, 2016
At Linda's house, we saw the puzzle she got at our Christmas party. Who doesn't love kittens and yarn?
Linda finished her beaded cowl and it is beautiful! I've never tried beading anything. Am I brave enough? I think I'd need magnifiers to string them.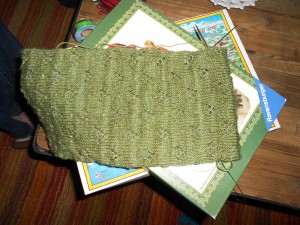 Linda also had a little snowman to show us. He sat in his dish, but as the afternoon wore on, he wore down.
It was that kind of day. I didn't take any more photos – just yakked and knitted.
February 22, 2016
The next week at my house, it was exciting to see some finished projects.
Michele modeled her completed vest. I tried it on and loved it, but I'd need a larger size for comfort.
The Monster Pants that Leslie made were finished.
My asymmetrical scarf was finished and I loved the way it turned out.
Carol started another pair of fingerless mittens.
Deb is knitting a colorwork hat. She'll carry the yarn on the back side. I didn't get a good photo of the beginning of the hat, but I did get a photo of the pattern.
Julie is knitting hat and mittens for the Loud at the Library fundraiser  in March. I like the colors. Hmm, maybe I'll throw in a raffle ticket when I go.
February 29, 2016
I forgot to bring my camera to this meeting, so I attempted using my phone. Didn't go well and I'm not sure why, but I did get a few that were salvageable.
I chose a new pattern and yarn for a scarf to knit. I toddled out and bought the yarn outside our knitting room. Meeting at Camas Cottage is convenient.
Mary finished her cowl and I really like it! She said it's not a pattern to knit at a Castoffs meeting where there is a lot of chatter, but she managed to find a quiet place to concentrate.
That was it for February, Castoffs. We're already through the middle of March, so I'll try to keep up better now that Spring has arrived. Maybe I'll be more ambitious. Haha.
Keep those needles blazing and I'll see you soon.